Genesis
24 ft. Dripper Watering Kit
Model # RSI-CDK24|Store SKU # 1001162318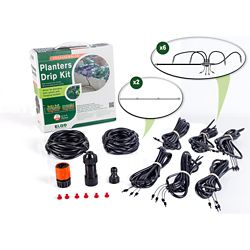 Genesis
|
Model # RSI-CDK24
|
Store SKU # 1001162318

Jump To Ratings
24 ft. Dripper Watering Kit
Overview

Model # RSI-CDK24 Store SKU # 1001162318

The Genesis Drip Irrigation System was created for gardeners and growers who are looking to conserve water consumption by delivering the right amount of water directly to the root system of the plants. Each of the Genesis Drip Irrigation Systems are designed for specific projects to make it easier to select the system that is right for you. Genesis also offers additional accessories to allow for the grower to customize their own system to fit their own personal needs. This kit is designed for container growing and includes 24 spike drippers that are bundled in 6 sets of 4 drippers each. The drippers offer an even slow watering of .35 gallons/ hour per dripper.

Dripper Kit System containers 24 spike drippers in 6 sets of 4 drippers each

Water flow of .35 gallons/ hour/ dripper

Connects directly to water hose

Complete watering system in a box

Designed for Container growing (6 containers/ planters)

Increase production yield by direct to root watering

Specifications

Dimensions

Assembled Depth (in inches)

40

Assembled Weight (in lbs)

1.5

Item Depth

10

Item Height

3

Item Weight

2

Item Width

10

Details

Country of Origin

CA-Canada

Hose Length (ft.)

24

Material

Plastic

Warranty / Certifications

1 year limited

Customer Reviews

Will this dripper system work attached to a rain barrel or does it need to be connected to household water pressure?

Needs to be pressurized. A small electric pump would work to pull water from the rain barrel and pump it through the dripper hose.

Date published: 2018-07-31
Related Products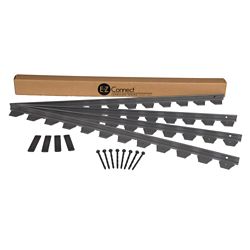 Engineered to provide lasting support for brick or... See More +
Engineered to provide lasting support for brick or stone walkway and patio projects. E-Z Connect Multipurpose 24ft. Paver Edging will hold your hardscape project in place. The low profile design curves easily without additional snipping or cutting. Locking connectors allow edging pieces to snap together for a virtually seamless connection. Unique spiral spikes are driven through predrilled holes in horizontal support tabs to help prevent movement after installation. Also works great as a landscape edging. Manufactured from 100 percent recycled plastic materials. Each kit includes everything needed for a standard 24 ft. Installation: four 6 ft. Lengths of edging, four locking connectors and (16) 10 in. Spiral spikes. All components are black in color.*Size and weight are approximate
See less

-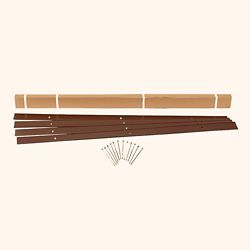 EZ Edge professional grade aluminum landscape edgi... See More +
EZ Edge professional grade aluminum landscape edging, by Dimex, LLC. is the perfect choice for owners and contractors alike. Its name speaks for itself because installation is easy. Simply slide the ends of the material together with an approximate 4 inch overlap and insert the provided spikes at a 45 degree angle and enjoy a permanent and virtually maintenance free solution to the infamous curb appeal dilemma. EZ Edge will not rust, rot, or become brittle like other edgings on the market, and straight runs or curves can be created with ease. It is made in the U.S.A. from recycled material, is non-toxic, has excellent corrosion resistance, and is all around environmentally friendly. Colour is MILL finish (silver). Available in a variety of other colours; black, brown, bronze and green. Applications suggestions include landscape beds, tree rings, walkways and pathways, brick or stone patios, gardens, drip edges and more.
See less

-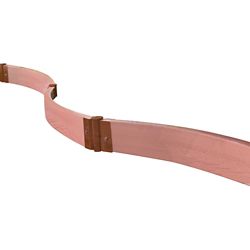 Play up your curves! These modular kits will inspi... See More +
Play up your curves! These modular kits will inspire endless ideas on how to freshen up your landscape and improve your curb appeal. Create landscape edging, playground borders, or unique features that can be both soft and organic, or cute and fun depending on your design. Create simple scalloped borders, or undulating paths that are built to last.Your kit includes four of our revolutionary 2" Classic Sienna composite curved boards, and four 2" anchor brackets. The insulating open-channel boards trap air, providing insulation to your soil. Keeps soil warmer in the Spring and Fall, and cooler in the Summer, so you can grow for an extended period. Anchor brackets grip the ground tight, so your edging will stay put no matter the weather. Our Raised Garden Bed Anchor Brackets pivot 270 degrees, allowing endless design options. Curved and straight border kits can be combined in many unique ways.
See less

-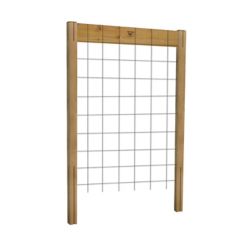 Grow vertically with our raised garden bed trellis... See More +
Grow vertically with our raised garden bed trellis kit. It saves space, maximizes your growing area and production. Growing peas, pole beans, cucumbers, morning glory, any variety of vegetables or flowers that climb will enhance the look of your garden
See less

-