Hides imperfections, easy to touch up.
Ideal for: dining rooms & ceilings.

Low-lustre appearance, good for low traffic areas.
Ideal for: living rooms & bedrooms.

Soft, velvety look that can be scrubbed clean. This versatile sheen can be used in any room.
Ideal for: kid's bedrooms, family rooms & hallways.

Pearl finish. Stain & fingerprint resistant, cleans easily.
Ideal for: kitchen, bath & laundry rooms.

Radiant sheen, durable and easy to clean.
Ideal for: kitchen, bath, trim, windows & high-traffic areas.

Brilliant shiny finish that is highly durable. Easy cleaning.
Ideal for: high-use surfaces, cabinets & interior furniture.

A flat sheen that is formulated for less spatter. Works well for hiding Imperfections on smooth & textured surfaces.

Used before paint to cover unfinished, uneven and repaired surfaces.

*We reserve the right to limit the guarantee in our discretion. Offer may be modified or cancelled without notice at any time.

Shop Decorative & Craft Paint
Shop Top Brands
Choosing the Right Interior Paint for Your Space
Getting your painting project done right starts with using Canada's Best PaintTM, available only at The Home Depot.
All of our paints are formulated to provide superior durability with quick and easy application. They have been tested and proven to deliver better results and last longer, with options to fit every budget.
We offer the widest range of low and zero VOC paints, even after adding colour. Our industry leading no-VOC colourants ensure virtually no odour.
Our Behr water-based paint can even be used to cover existing surfaces painted with oil, with just a quick clean and a light sanding as preparation. No need to prime!
Interior Paint
Behr Marquee

Behr Ultra

Glidden EPIC

Behr Premium Plus

Glidden Premium

Glidden Essentials

Paint Coverage
(# of recommended coats)

Guaranteed one-coat coverage*
(in 1000 colours)

1-2 Coats

1 Coat

1-2 Coats

1-2 Coats

Primer &
2 Coats

Paint and Primer in One (Can be used on multiple surfaces including uncoated drywall)

✓✓✓✓

✓✓✓✓

✓✓✓✓


✓✓✓

✓




✓✓

✓✓




✓✓✓✓



Hides Dark Colours


✓✓✓✓




✓✓✓✓




✓✓✓✓




✓✓✓

✓




✓✓

✓✓




✓

✓✓✓

Scrubbable, Washable and Stain Resistant


✓✓✓✓




✓✓✓✓




✓✓✓

✓




✓✓✓

✓




✓✓✓

✓




✓

✓✓✓



Adhesion over oil-based paint

✓✓✓✓




✓✓✓✓




✓✓✓✓



✓✓✓

✓




✓✓✓✓



✓✓✓✓

VOC Content

Low VOC

Low VOC

Zero VOC

Zero VOC

Zero VOC

VOC Compliant

*Based on results from independent laboratory studies of major Canadian Interior Paint brands.
**With the Exclusive BEHR MARQUEE® Colour Collection, and a selected number of colours from other BEHR® palettes.

Behr Colour Trends 2021
Our top trending colours from Behr will help you select the perfect colours to make any room beautiful. Once you've found your inspiration, head to your local Home Depot to pick up paint chips, samples or cans in the perfect colour.
Don't Forget Your Painting Accessories
Before starting any painting project, make sure you have the right tools for every situation.
This limits downtime and helps you get the job done fast.
Ideas & How-to
Related Products
This brilliant, glass-like sheen is the perfect choice ...
This brilliant, glass-like sheen is the perfect choice when exceptional brilliant and easy stain removal is desired. Use on previously painted or primed Interior or Exterior surfaces. Ideal for kitchens, bathrooms, ceilings, cabinets, shutters, doors, interior/exterior furniture, garage doors, windows and trim.
DAP Kwik Seal Ultra is a high performance ...
DAP Kwik Seal Ultra is a high performance siliconized kitchen and bath sealant that repels water, stains and dirt. It has a lifetime mould and mildew guarantee so the sealant stays looking fresh and new. Kwik Seal Ultra is 100% waterproof and crack proof. It can be exposed to water ...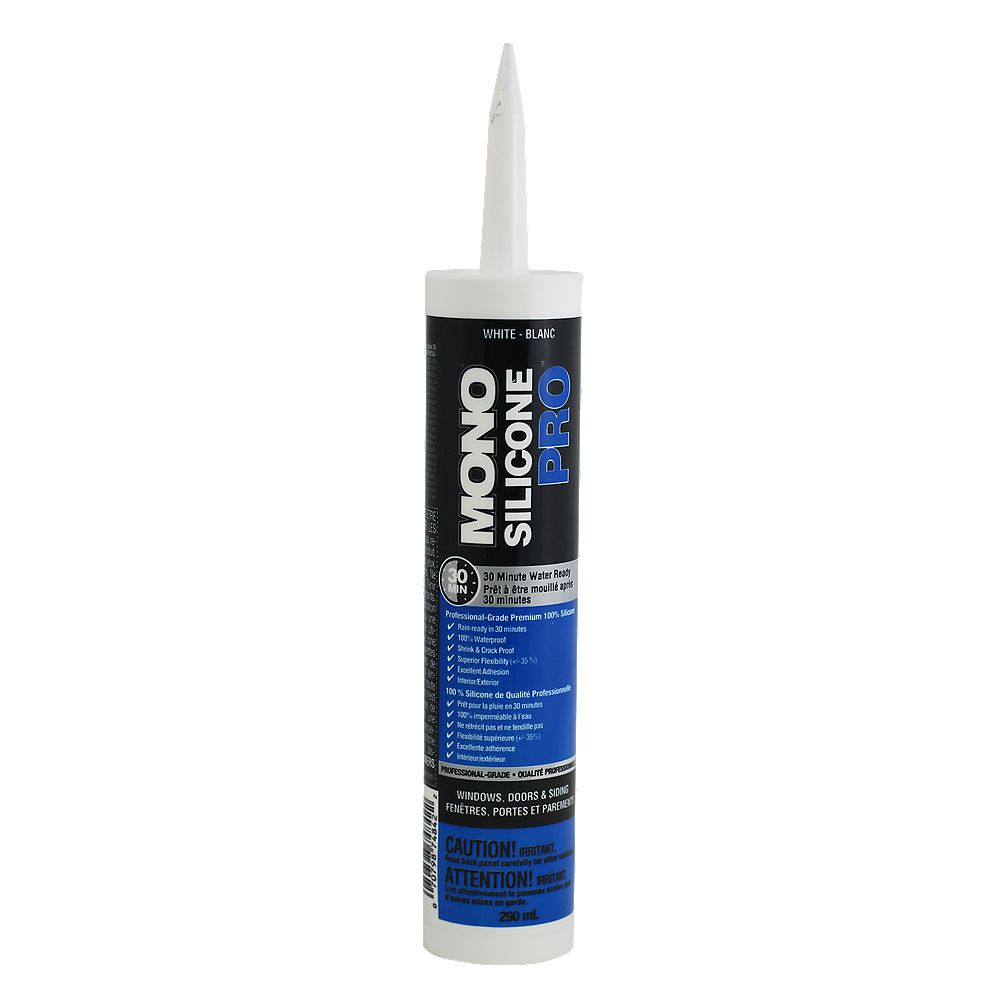 MONO Silicone Pro Premium Silicone Rubber Sealant is ...
MONO Silicone Pro Premium Silicone Rubber Sealant is a one-component neutral cure material that cures to a tough rubbery solid upon exposure to moisture in the air. It Provides a long lasting, flexible, watertight seal and offers excellent adhesion for applications.
LePage QUAD MAX is the next generation of ...
LePage QUAD MAX is the next generation of siding and window sealant that offers maximum durability and maximum application performance for use in any conditions, interior or exterior. LePage QUAD MAX takes the guess work out of color matching with matches to primary building material manufacturers. It has been proven ...