Shop Patio Furniture
Shop Outdoor Living
Ideas & How-to
Recommended Items
Design an Outdoor Retreat with Patio Furniture
All it takes to transform a deck or patio from a blank space into an inviting outdoor retreat is the right patio furniture and a little style. Any deck or patio can become an extension of your home when you do a little planning and decorate it with a specific function in mind.
Transforming an Outdoor Space
Any deck or patio can become a functional extension of the home with the right furnishings and decorations. Consider your daily routine and think of how a deck or patio could be most useful. Once you know what type of outdoor room you want, consider the style, color scheme, and how many people the space needs to accommodate.
Designing an Outdoor Living Room
An outdoor living room can be every bit as inviting and comfortable as an indoor space when you select the right outdoor sofas, chairs, and accent tables. Begin by selecting a patio set that features weather-resistant framework and materials, such as resin wicker and powder coated steel. When the seats are padded with outdoor cushions and pillows friends and family will be sure to settle in for long conversations.
With your essential patio furniture in selected, start laying in decorative elements, such as outdoor rugs, decorative pots, and strings of lights. Adding a deck box or two provides a convenient place to store the cushions when they aren't in use.
Decorating an Outdoor Dining Area
Welcome everyone in your home to enjoy an outdoor meal together when you place a beautiful outdoor patio table and surround it with dining chairs. A small bistro set creates a romantic retreat for two. When you are expecting more guests, select an extendable dining table with patio chairs designed for easy stacking and storage between uses.
Creating a Peaceful Retreat
Your outdoor space doesn't have to entertain others. Sometimes, creating a peaceful retreat for one will help you reconnect with nature and relieve the stresses of the day. Purchase a hammock stand and hammock to make a part of your yard a restful place to relax. If you like to tend to your plants, a garden bench overlooking your flower beds can be a welcomed addition.
Adding All-Season Comfort
Making your new outdoor room comfortable both day and night is all about adding accessories that combat the elements. A gazebo, pergola, or patio umbrella placed over your outdoor living room or dining room can provide protection from the sun and provide shade on the warmest of days. When the weather starts to cool down, an outdoor fireplace, fire pit, or patio heater adds a cozy touch. Make your built-in firepit a feature by surrounding it with Adirondack chairs.
Extend the living area of your home by turning any deck or patio into a welcoming living area. With the right patio furniture in place, your outdoor retreat can be every bit as comfortable and cozy as your indoor area. Patio sets, outdoor umbrellas, dining sets, and storage essentials come in a wide range of styles and finishes, making it easy to find one that enhances the style and color scheme of your home.
Related Products

This stylish flame heater brings a new dimension ...
This stylish flame heater brings a new dimension to outdoor heating. It provides a uniquely visual flame while providing heat in every direction, and will be the focal point of any outdoor setting. This high quality unit features a tip over protection system for your safety.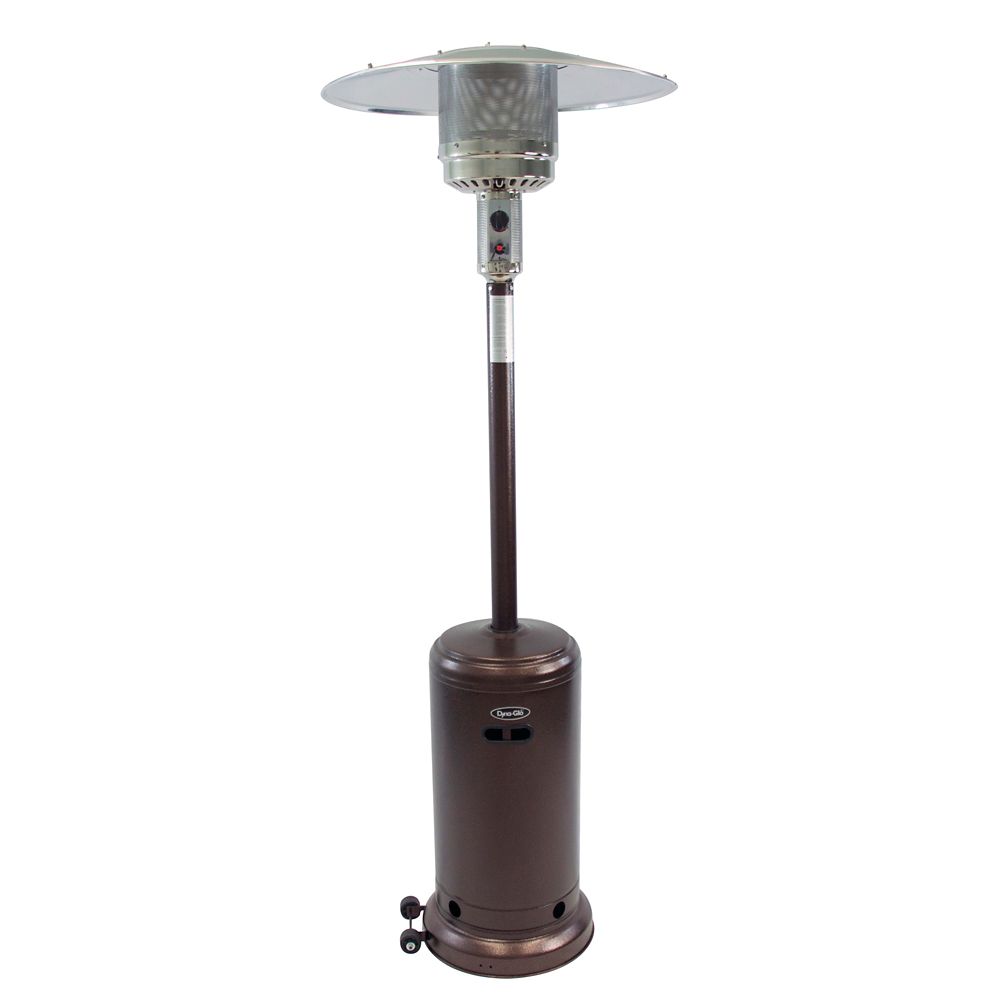 Turn your cold and dull nights into warm ...
Turn your cold and dull nights into warm and cozy evenings underneath the propane powered (20 lb propane tank not included) Dyna Glo Deluxe Patio Heater. Even when the summer has come and gone, this powerful 41,000 BTU heater will help keep you warm with its variable heat setting. While ...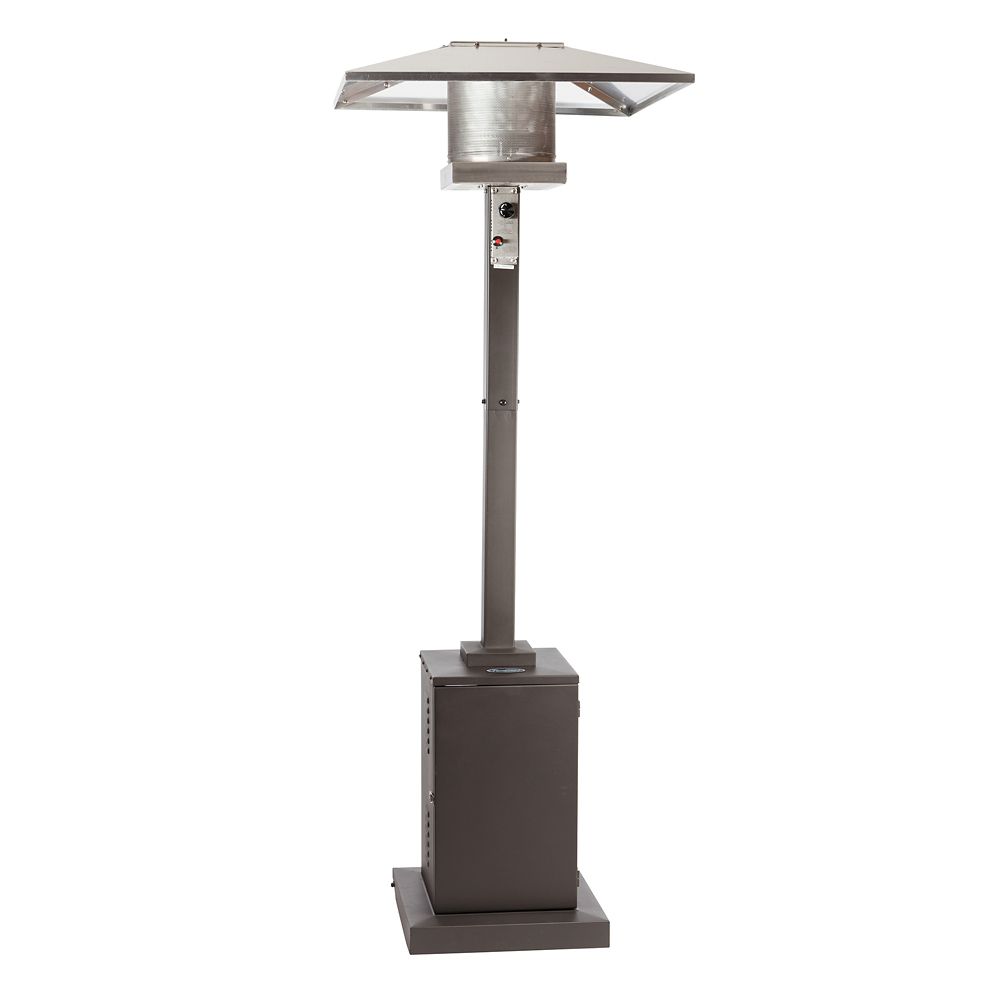 The Square Bronze Patio Heater is the perfect ...
The Square Bronze Patio Heater is the perfect way to extend your backyard entertaining season. This unique unit produces 46,000 BTU using a standard 9.1 kg (20 lb.) propane tank and includes wheels for easy mobility. The stylish bronze colour and modern square design perfectly accent and enhance your patio ...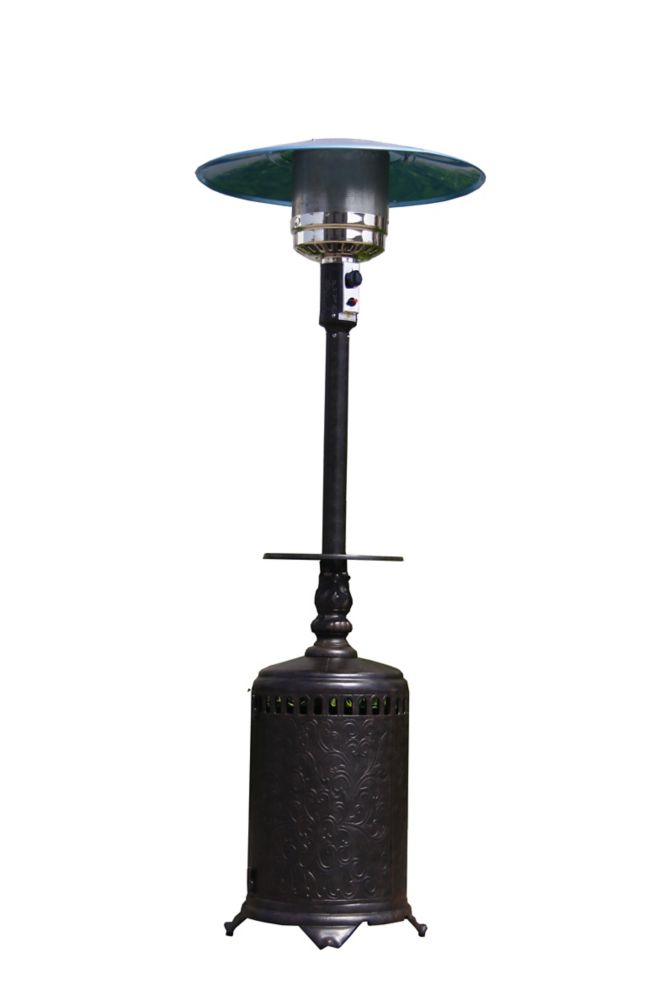 Give your evenings the added warmth and sophisticated ...
Give your evenings the added warmth and sophisticated styling of this stunning cast aluminium full size patio heater finished in a timeless bronze finish. Emitting up to 41,000 BTUs, this heater is sure to comfortably heat your outdoor space and make any time of the year enjoyable outside. This unit ...