Atron
LED Touch On / Off Utility Light, Battery Operated
Model # ULL95|Store SKU # 1000811768
Overview

Model # ULL95 Store SKU # 1000811768

Wireless Warm White 9.4" (24cm) LED Touch Light, you can have Light anywhere you need it. Ideal for Under Cabinet, Closets, Kitchen, Pantries, Camping, Traveling, Garage and Work Shops. This battery operated Light needs no wiring, and No bulb to replace. Complete with Mounting Template and Hardware.

Easy touch on/off button

Long Life & Energy Efficient LED Bulbs

3 Super Bright LEDs - 65 Lumens

9.5" Length

Battery Operated, Requires 6 AA Batteries

Ideal for Wall or Under Cabinet Use

Specifications

Dimensions

Packaged Depth (in inches)

1.75

Packaged Height (in inches)

12.75

Packaged Weight (In lbs)

0.3

Packaged Width (in inches)

5

Details

Country of Origin

CN-China

Warranty / Certifications

90- day
Related Products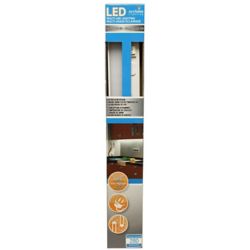 Great for places you need light but it is not poss... See More +
Great for places you need light but it is not possible to hard wire under cabinets or cost prohibited. Easy DIY plug in system, anyone can install. Can provide30,000 hours of useHas 110 volts input and no remote power supply required. Ultra slim design only 7/8" height.It is warm and has 3000 Kelvin colour temperature with 280 Lumens. Hi-low switch and frosted acrylic lens that reduces glare. Quick and easy linking system that can link up to 10 fixtures.
See less

-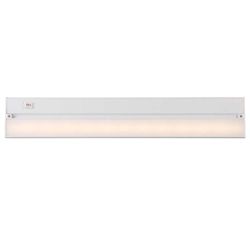 Professional series LED under cabinet lighting ra... See More +
Professional series LED under cabinet lighting rated for continuous operation with a Low profile design and an Aluminum housing with excellent PC diffuser. Has a Convertible design for portable and hardwiring applications, with an Easy hardwiring system, hardwire connector and Integrated mounting screws. Comes with a Hi-Low switch for two-level, quick dimming that can be Dimmable with most standard dimmers. Has a Quick and easy linking system with a High CRI greater than 90 , 520 Lumens with 50,000 hours use
See less

-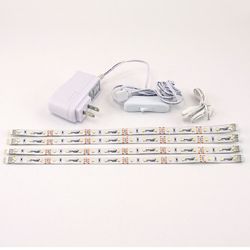 An all-inclusive LED lighting solution, the BriteL... See More +
An all-inclusive LED lighting solution, the BriteLED kit is a simple and easy way to enhance any room in a home. Containing a power supply, four 12 strips and two 16 extension cords each kit has been designed for versatility. BriteLED strips are incredibly flexible and can be trimmed for a custom fit while the 3M tape backing will stick to virtually any surface. Use BriteLEDs to illuminate dark closets, cupboards, and workshops or to add clear, bright accent lighting to bedrooms, entertainment centers, and home offices. Constructed from high-quality materials in a top-rated manufacturing facility, BriteLED components are tested during every stage of the construction process to ensure quality. With BriteLEDs a superior product is expertly delivered for an exceptional value.
See less

-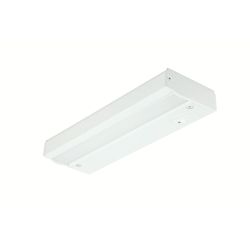 The Commercial Electric 9-inch LED Direct Wire Und... See More +
The Commercial Electric 9-inch LED Direct Wire Under Cabinet Light furnishes uniform, flicker-free illumination perfect for task or accent lighting. Designed for under-cabinet placement and other dimly lit areas of the home, the 120V hardwired fixture provides brilliant white light for kitchen countertops and other household work surfaces. The curved, frosted lens provides even light distribution without any hot spots or shadows, offering wide-spectrum coverage to boost visibility and productivity. The 3000K colour temperature is similar to halogen lamps, but this LED unit lasts up to 50,000 hours and does not require bulb changes, making it maintenance-free. It consumes less energy than fluorescent or incandescent under-cabinet fixtures and the aluminum housing stays cool to the touch for safe use. Full-range dimming is achieved with a separately sold dimmer. Offer different size in 12 in., 18 in., 24 in., and 36-inch with both white and bronze finish for choice.
See less

-