Gas BBQs
Charcoal & Wood Pellet BBQs
Shop Outdoor Cookware, BBQ Accessories and Fuels
Featured BBQs
Shop BBQs by Brand
Pizza Ovens, Smokers & Fryers
Types of BBQs and Grills
There are many options to consider when choosing the perfect BBQ for your outdoor space. Gas or charcoal? Propane or wood? We can help you understand the features and benefits of each type so you can make an informed decision before buying.
BBQ Recipes: Popular Grilling Techniques
-
BBQ Recipes: Popular Grilling Techniques
Grill to Perfection with Outdoor Cooking and BBQs
Enjoy the delicious, smoky flavour of a home-grilled dinner every night when you outfit your deck or patio with outdoor cooking essentials, such as a barbecue.
Choosing the Right BBQ
Designing an outdoor cooking area begins by selecting the right BBQ to suit your needs. Finding the right one is about knowing the benefits and drawbacks of each style and finding the one that will deliver the taste you want at a price that fits within your budget.
Propane BBQ
Propane grills are a convenient option. They operate on a single propane mount stored in the base and come to temperature quickly. When you are done grilling, simply turn them off. One of the most popular choices in propane grills is the Napoleon BBQ because of its incredible design and reliable cooking temperatures.
Natural Gas BBQ
Natural gas grills connect to the gas connections of your house, eliminating the need to refill a propane tank. They come in free-standing and built-in options popular for outdoor kitchen designs.
Wood Pellet BBQ
When you're looking for a rich, smoky flavour for your meats, there's no substitute for a pellet grill. These smokers, such as the Traeger smoker, feature a hopper that you fill with wood pellets of your choice that act as the fuel for the grill. Wood pellet BBQs burn lower and for longer, providing tender, fall-of-the-bone results.

Charcoal BBQ
Grill out in traditional fashion by choosing a charcoal grill such as a Weber BBQ. This type of grill is fueled by charcoal briquettes that deliver a rich taste to the items you cook. Charcoal grills are available in a range of different types, including large options, portable designs, and traditional kettle shapes.
Keep Your Grill Protected with a Cover
The grill you add to your deck or patio is an investment. Protect your investment by choosing a weatherproof cover. These covers come in many sizes and feature thick, outdoor grade fabric that keep the grill protected from the sun, rain, snow, and other elements.
Additional Options
Outside of the standard grill options, there are additional products that can be used to elevate your cooking experience.
Portable BBQ
Portable grills are ideal for on-the-go. Their compact design makes them easy to take along with you on a camping trip, tailgate, or day at the beach. This compact design is available in both propane and charcoal options according to your personal preference.
Deep Fryers
Outdoor fryers give you the freedom to cook chickens, turkeys, and other meats in a way that seals in juices and delivers a crisp, fried taste.
Outdoor Pizza Ovens
If your family loves pizza, an outdoor pizza oven will deliver that fresh taste from the comfort of your own home.
Mix and match your favorite outdoor grilling options to create a well-appointed outdoor kitchen that will welcome everyone in your home to enjoy a delicious meal together. Take your new grill one step farther by outfitting it with grilling accessories such as rotisseries, grilling mats, and baskets.
Related Products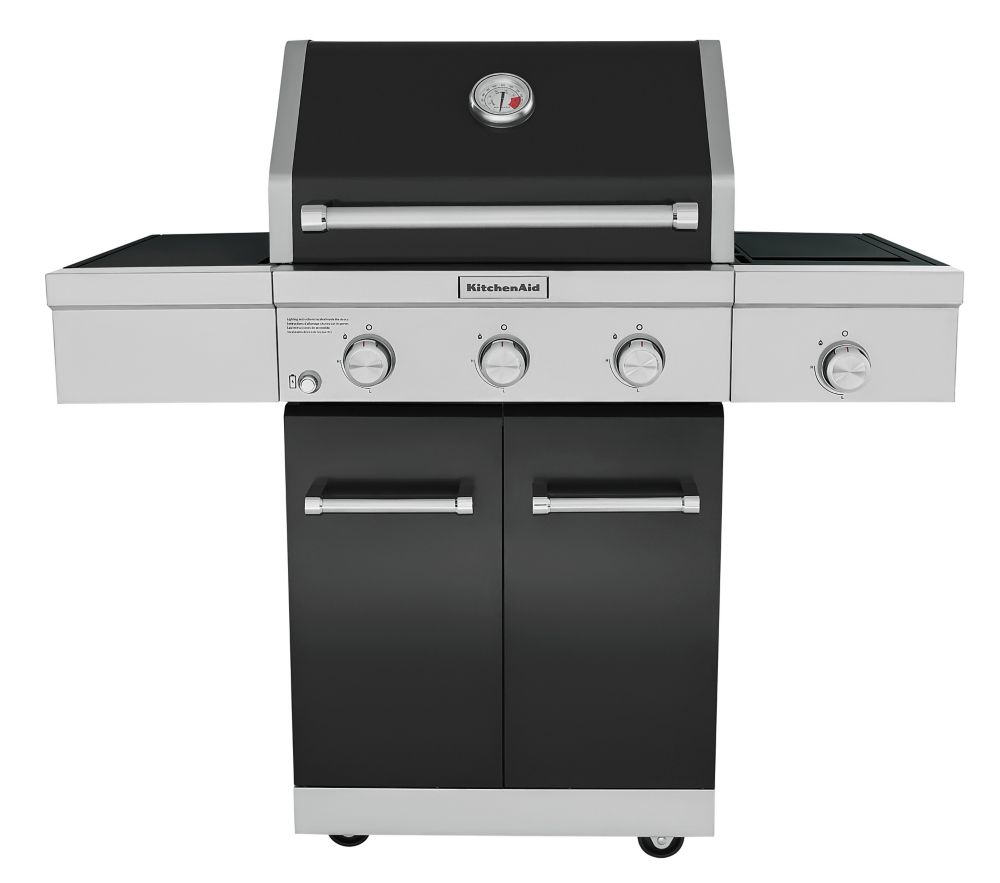 This durable KitchenAid Gas Grill is built with ...
This durable KitchenAid Gas Grill is built with premium corrosion resistant materials and offers 644 sq. inch of total cooking space over stainless steel wrapped main cooking grids. The Even-Heat System with stainless steel burners, angled flame tamers and enhanced grates work together to distribute consistent heat across the entire ...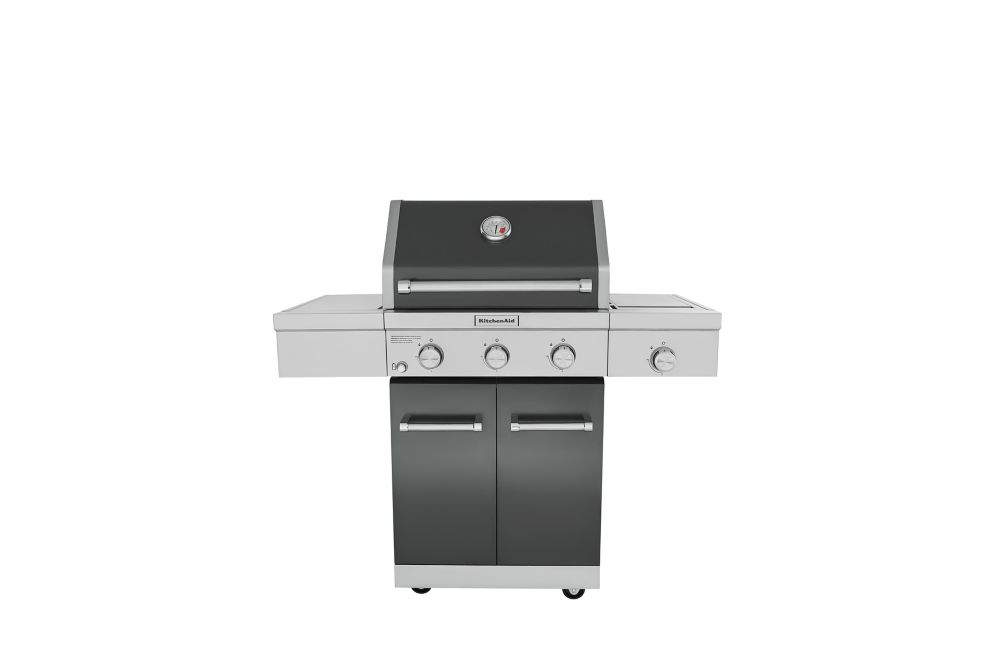 This KitchenAid 3-Burner Propane Gas Grill boasts 645 ...
This KitchenAid 3-Burner Propane Gas Grill boasts 645 sq. in. of cooking space with three main burners and one side burner supplying 48,000 BTUs of flame-roasting energy. This grill includes an Even-Heat Cooking System that distributes uniform heat throughout the firebox. Angled flame tamers deflect heat, prevent flare-ups and transform ...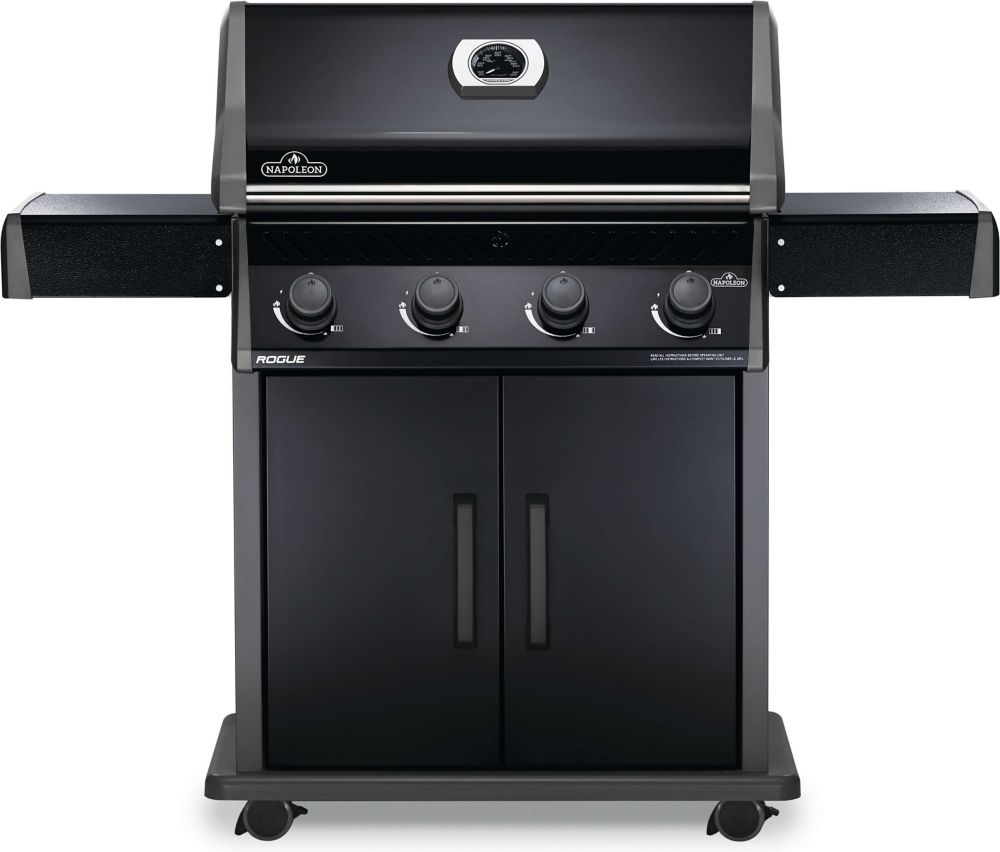 Napoleon's Rogue 525 Propane Gas BBQ in Black ...
Napoleon's Rogue 525 Propane Gas BBQ in Black is a large, premium quality grill with an affordable price. Four burners light instantly with a battery-free ignition. This grill features precise temperature control and high heat searing over cast-iron cooking grids. The stylish black exterior is highly durable and easy to ...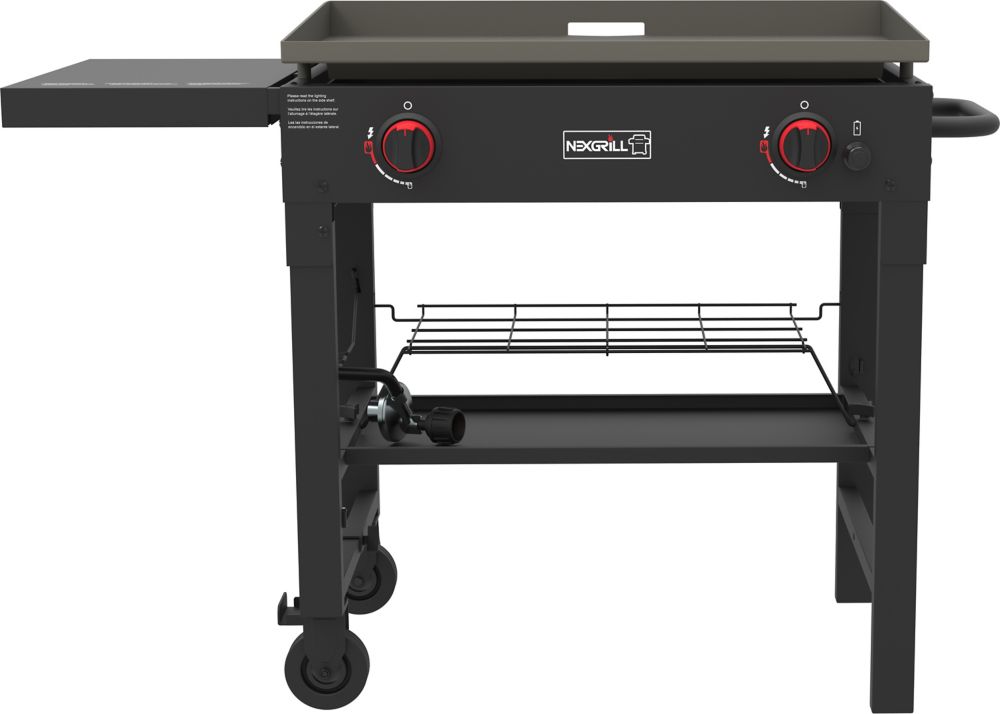 Meet the most recent addition to the Nexgrill ...
Meet the most recent addition to the Nexgrill family, the 29-inch 2 Burner Propane BBQ with Griddle Top. This multi-use grill is perfect for preparing breakfast, lunch and dinner. It incorporates a pre-seasoned griddle that offers 514 sq. inch of total cooking space, high powered burners that offer 19,000 BTUs ...